Online Professional Education in Biomechanics & Orthotic Therapy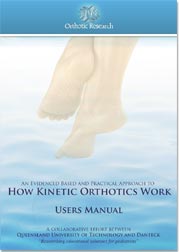 An evidence based program designed to enhance practitioner understanding of kinetic tests and observations and how they relate directly to orthotic prescription, design and review.
What Is the Course About?
Based on past and present research in biomechanics combined with leading clinical computer integrated manufacturing technology; this course presents the latest research and understandings of how a new combination of clinical observations and kinetic tests can relate directly to key elements in orthotic design.
Clinical tests are animated in 3D allowing course participants to thoroughly evaluate and practice them so as to validate their understanding. Following this process, case studies are included which allow you to then evaluate this understanding and how it applies to application design selection to optimise patient outcomes.
How Long Does the Course Take?
The course is delivered over a six week period of self directed learning with a minimum of 10 hours of study time.
This CPD programme would qualify for the equivalent of 10 hours of CPD activity under either "Further education" (maximum 10 hours) or "self-directed learning" (maximum 10 hours) categories according to the Podiatrist Board of Australia guidelines for continuing professional development.
Who Developed the Course?
This course was a developed over 2 years by the Queensland University of Technology in collaboration with industry. The course went online in March 2012 and is up to date with the latest research and application design methodologies.
What Do I Need to do the Course?
You require a regular desktop or laptop computer running Windows or Macintosh. Mobile devices such as iPads are not supported at this time.
How Much Does It Cost?
The total cost is $550 inc GST. This provides you with complete access to the online course and a certificate will be issued to you on completion.
Professional Registration